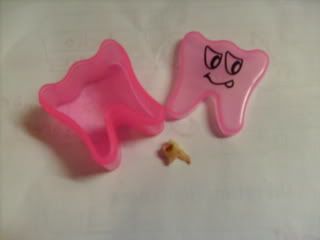 Hannah had a tooth pulled today! She was such a trooper! The dentist was also amazing. They explained everything to her in just a way that she understood and was comfortable with (minus the part with the needle). They told her that her tooth had a "cavity bug " and that they needed to send it off the Tooth Fairy. She was fine with it. They even demonstrated the WHOLE procedure of the tooth sealant on her finger ahead of time. Here is a picture of the tooth that was infected and the little pink box they gave Hannah to put her tooth in for the Tooth Fairy. You can see the large brown spot that was eaten away by the cavity.
Every child walks out of the office with a balloon, stickers and a tattoo.
She used to be DEATHLY afraid of the dentist, now she told me that she only wants to go there and thats it. I really wish I found them in the first place. I recommend to everyone to take your child to a pediatric dentist and not a general dentist. They just have such a caring way about them and they make the children feel so comfortable.