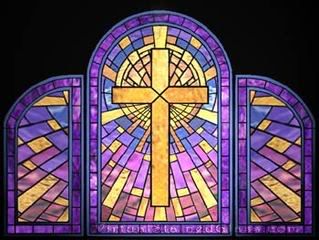 Last night I went to a womens fellowship function with my mother-in-law. I had such a great time and I was moved (I love that feeling).They served tacos, one woman never had a taco before that night! WOW I thought they where common, but then again my family is from San Antonio, Tx. It was so funny because so many of the women didn't know what refried beans where. They where pointing "what is that?". After dinner we sat in the front of the function hall and sang some songs. I started to shed some tears during praise and worship songs. At the time I hoped that no one could see me, there is just something so moving, touching and intimate about singing to and for the Lord. Then we watched to a small skit, Margie's very long yet very amusing introduction for the guest speaker and then Joanne spoke.
Her stories of people she has come across where amazing! Its interesting how much you can learn about people when you REALLY listen. One may was a missionary in Alaska, he really loved the Lord! He had heart surgery and ended up with a staph infection. But that was his way of being able to spread the good news to nurses and doctors. Then he was hit by a bus, yet another opportunity to reach more people with his message. From the accident he was left paralyzed and a prisoner to a wheel chair. He lived right by a hiking trail, so he took cold water and some tracks and perched himself at the trail so he could offer the hikers a cold drink and food (the Lord's word).That is the type of person I would love to be. Take any and every situation where any ordinary person would feel conquered by their situation instead of conquering their situation for the good of saving people. This man was clearly INlove with the Lord!
She also spoke of a book with the word Stained Glass in the title. But a quote from the book really stuck with me. "The Lord has taken all of the broken pieces in my life and made a stained glass window from them" How true is that. Its kind of like that Rascal Flats song "the broken road led me straight to you". My window may not be as intricate as others, but each piece means something. Some are dark and others as bright as can be. But what a beautiful picture they make. The broken road is not the easiest but it truly is the most blessed.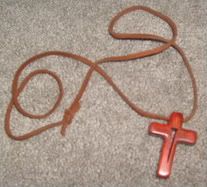 Before it was over Joann brought a gallon sized zip lock bag full of wooden crosses that one of her friend's made. He carved each and everyone and they where ALL different! After he heard that she was going to talk for a group of women he thought it would be nice to make one for each of us. They where all so beautiful. Here is a picture of mine. It has a nail carved in the middle. I picked this one because I knew it was what my husband would have picked.

Something to leave with:
Remember when you feel down and broken. Walk that road with Jesus. At the end of that particular road you will find a gift and in time it will make the most beautiful stained glass window.