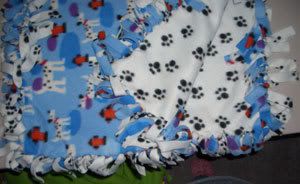 Ok this one is SUPER easy! I made the blanket with Fire Dogs for a friend's son when she adopted him and the striped one for my daughter. These blankets are soft and extremely warm. People in my house fight over them in the winter. They also make great gifts. Here is how I did it:
1 yard of 2 different print fleece
2. Cut a 4x4" square (or 5x5" square for a longer fringe) out of each corner (through both layers of fleece.
3. Depending on the size square you cut out is the size fringe you will make. So cut either 4-5" along each side of the fleeces (make sure you cut them together).
4. Tie the pieces together one top and one bottom that are together. I like to Double knot them and have the opposite fabric on each side like in the pictures.
Thats it! Its also a great project for school aged children.