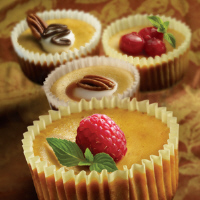 So these are why I had to run to the store last night. If you like pumpkin you have to try these!
Ingredients:
18 Paper Baking Cups
18 Gingersnap Cookies
12 oz Cream Cheese, Softened
3/4 Cup Sugar
1 Tablespoon
Argo
Corn Starch
1 teaspoon Pumpkin Pie Spice
2 Eggs
1 Cup Canned Pumpkin
1/3 Cup
Karo
Lite Corn Syrup
Place
paper baking cups in muffin pans. Place 1 gingersnap in each cup.
Beat
cream cheese, sugar, corn starch and pumpkin pie spice with an electric mixer until well mixed. Add eggs and blend well. Add pumpkin and syrup. Beat 1 minute.
Pour
filling into cups, dividing evenly. Bake in a preheated 325 degree oven for 30-35 minutes, just until set.
Chill
for 1 hour. Garnish as desired.